In order to make clear and reliable statements about the mounting options, the positional accuracy, the compliance with the drawing and the installation position of components, they are measured according to specific procedures. The results of that measurement are documented in a comprehensible way in order to quickly initiate the right measures when deviations occur.
That's why industrial measurement technology has become an essential method for modern companies. It enables the optimization of products and processes and ensures quality in design, production and development. Because what is specified in the drawing must be applied and verified, which is no ease regarding the increasingly complex standards.
With systems of 3D measurement technology it's possible to check whether the geometric shape of the workpiece comply with the specifications of the design engineer (according to the rules of the "geometrical product specification and verification" GPS).
Tactile 3D coordinate metrology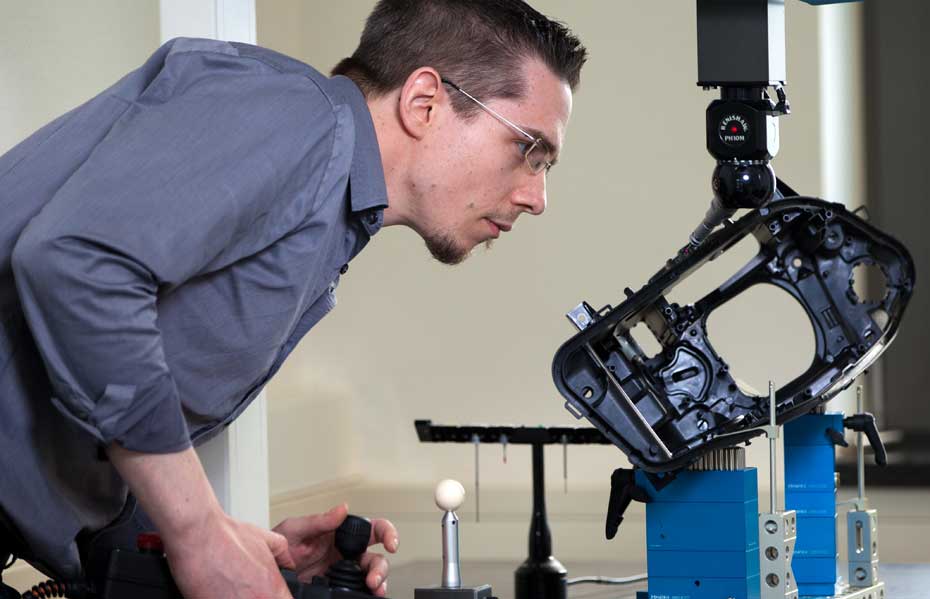 For the tactile 3D coordinate metrology the surface of a workpiece is detected pointwise in a constructive and device-related predefined coordinate system. Afterwards, parameters are calculated from the measured coordinate values, which describe the surface of the real workpiece in an idealized form.
This helps to verify the specification requirements. With these parameters it can be checked whether the manufactured workpiece meets the specifications of the design engineer in terms of its geometric shape. The principle of the pointwise detection characterizes the universality of the coordinate measuring machine. Especially part measurements with very close tolerances require a coordinate measuring machine and specialists who know how to handle it.
The tactile 3D coordinate metrology has a broad spectrum of tasks. Almost all occurring geometric measurement tasks of the production measurement technology can be solved with this method.

With this measurement technique the following parameters can be determined according to current standards:

Dimensions , distances and angles
Shape deviations
Positional relationships
Our services in the tactile 3D coordinate metrology:
Comparative measurements to validate the results of the tolerance analysis (target-actual comparison)
Development of coordinated measurement concepts and measurement strategies with the aim of reducing quality costs
Initial sampling according to VDA
Prototype and series accompaniment (also supplier evaluations)
Error analysis
Machine and process capability analyses
Creation of measuring programs
Drawing analysis / optimization
Assisting in the development of test equipment in the gauge
3D digitization for reverse engineering
Commissioned measurements
Optical 3D metrology
The optical metrology has become an indispensable method in lots of industries because it enables them to measure complex components and external geometries without contact. In this way, the entire surface can be detected.
In collaboration with our long-term partners, we are able to perform this measurement and analysis technology in addition to the tactile metrology. The main feature of the optical 3D metrology is that complex component geometries or freeform surfaces are scanned and analyzed by suitable optical systems that provide reliable and comprehensible results.
Our services in optical 3D metrology:
Mobile 3D digitization
Surface comparison to arbitrary alignment concepts
3D digitization for reverse engineering
Evaluation according to DIN EN ISO 1101 (geometrical tolerancing)
Deformation analysis in combination with finite element simulation (evaluations in accordance with DIN EN ISO 10579 – without clamping device)
Fast, non-contact operation and good automation
Immediate detection of process variations and quality defects
Direct feedback of the measurement results into the process
Improvement and shortening of inspection processes
Improvement of quality and efficiency